Looking for clever small apartment ideas to squeeze in more space in your cabinet-less bathroom? Not all bathrooms come with drawers or a medicine cabinet. A small apartment has a tiny bathroom as it is but the lack of storage space is problematic for most homeowners. You have to make every square inch of space work harder! And with a little ingenuity, you can!
Tired of dealing with the cramped space? If you'd like to make room for your essentials in a cabinet-less bathroom, try any of these small apartment ideas:
Hanging Organizer
One of the easiest ways to stretch a cabinet-less bathroom's storage space is to simply hang an organizer over the door. A hanging organizer allows you to maximize all that vertical space. You can use the organizer to store your toiletries or hold cleaning supplies.
Since a hanging organizer is skinny and lightweight, it won't add to the visual weight of the bathroom. All the important bathroom items are also accessible, allowing you to create a functional yet stylish space.
Over The Toilet Storage
The space above the toilet is normally wasted space…use it! Over the toilet storage solutions work well regardless of the bathroom.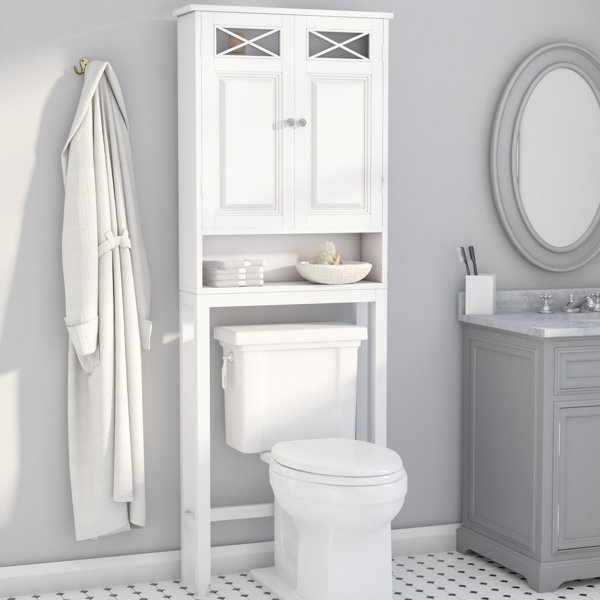 Metal Rods
Got no space to hang your towels? You can turn any blank wall into storage space for your bathroom essentials using wall-mounted metal rods.
You can install the metal rods on the back of the bathroom door, above the toilet, or any spot that could use a little organizing. You can use these metal rods to hang clean towels or wet clothes, clearing the floor space.
Bins Under the Sink
Using wall-mount or pedestal sink with zero drawers? Here's a great tip: try stowing several bins under the sink. These bins will come in handy when storing bathroom supplies such as toilet paper, bottles of shampoo, extra towels, etc. You can also use the bins to keep your dirty clothes off the floor!
Corner Susan Cabinet
A Lazy Susan is a compact corner cabinet that can be used as a storage solution for a small apartment. This versatile furnishing is perfect for making tight, awkward spaces work harder.
Add one corner cabinet or two in the bathroom to sneak in extra storage space. You can put one under the sink or several corner cabinets in tight corners. Use the Lazy Susan to keep your bath essentials on hand!
Tiered Basket
Clear your bathroom counter and organize your beauty products with a tiered basket. A tiered basket allows you to keep your bath essentials on hand while organizing the counter space!
Apart from tiered baskets, you can also use trinket trays or small baskets to organize your toiletries. Set the baskets near or on the sink (if it's small enough) to keep your toiletries within easy reach!
Coat Hooks and Hat Racks
Installing several rows of hooks on the back of the door or any blank wall space is a smart way of extending the storage space in a tiny bathroom.
Just drill a hole, install the coat hooks, and you've got more spots to hang your clothes! You can also use hat racks in place of coat hooks. These useful decors come in an array of designs to choose from.
Wall Cubes
Strech your bathroom's storage space by installing wall cubes on blank walls. Choose wall cubes that are big enough to hold folded washcloths, towels, tissue paper, etc.
Grab a hammer and some nails and affix the wall cubes on high-traffic areas, such as near the sink or over the toilet. You can also install one near the shower area to store your bath essentials and keep them within easy reach!
Ladder
… And speaking of over the toilet storage, you can maximize this area by placing an old ladder against the wall. Use the ladder to hang towels or magazines and everything else in between.
This is one of the best small apartment ideas because it allows you to extend the bathroom's storage space while repurposing items in your home that are usually left gathering dust in deep storage.
Mini Shelf
One of my favorite small apartment ideas for extending storage in the small bathrooms involves setting a mini shelf over the faucet. Stash everything from shavers to soaps, dental floss to eye cream, basically small items that you have zero space for!
Tension Rods + S-Hooks
Did you know that tension rods can be used to squeeze in more space in the bathroom? These nifty decors could turn awkward corners into storage areas for your bath tools.
Just install the rod in between wall spaces, add several S-hooks and you're ready to organize the bathroom. Tension rods come in different sizes too so no matter how tight a corner is, there is a tension rod that will fit the space perfectly.
Rolling Cart
You can use a bar cart to add portable storage in the bathroom too! This storage space on wheels can be used to organize your toiletries and it has lots of space for larger items.
The best part? A bar cart can be wheeled in and out with ease. You can set it on the most convenient spots, depending on your needs. For instance, you can set it near the bathtub before a soak or near the sink as you prep for bed.
Found these small apartment ideas useful? Sign up for our newsletter and get the latest organizing and styling tips for a functional living space!